Where To Celebrate National Bagel Day on Jan. 15 on the Upper West Side
January 14, 2021
|
Uncategorized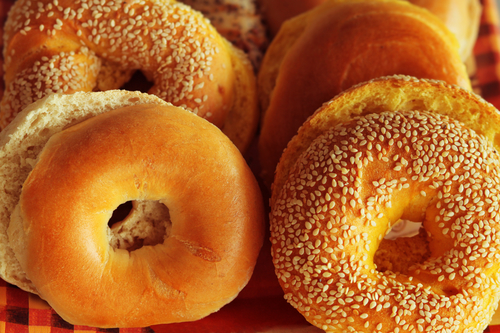 When it comes to comfort food, our local bagel spots know how to do it – there's nothing like a hot bacon, egg and cheese on a bagel, or even just a freshly-made, still warm bagel smattered with cream cheese on a winter morning to take the chill out of that January air.
On National Bagel Day on Jan. 15, feel free to enjoy a bagel from one of these local spots without feeling even an ounce of guilt. With both the foodie-friendly holiday and all of us needing a dose of comfort food, dig in and enjoy!
H&H Bagels, located at 526 Columbus Ave, New York which is a seven minute walk from your Sagamore apartment, was founded in New York City in 1972. For over 45 years, they have used their original recipe and the same artisanal water bagel method to make their bagels — the same today as their very first day.
Their bagels, which are also available for takeout and delivery, start with the highest quality, all-natural ingredients sourced from around the world. Then they are proofed, kettle-boiled, bathed in cold water, and baked on burlap covered wood boards in their vintage revolving tray ovens.
Modern Bread and Bagel, located at 472 Columbus Ave, New York which is a seven minute walk from your Sagamore apartment, serves from-scratch brunch classics with global influences in a cozy, light-filled space. Or, you can order them for takeout or delivery.
At Modern Bread and Bagel, brunch is not just for the weekend. House smoked salmon as well as a variety of unique cream cheeses and dips complement their kettle boiled ancient grain bagels. Their all day menu features creative egg dishes inspired by their favorite cafes in Sydney and Tel Aviv with dishes ranging from shakshuka to corn and goat cheese fritters.
526 Columbus Ave, New York, NY 10024
(212) 498-9828
472 Columbus Ave, New York, NY 10024
(646) 775-2985