Check Out These International Food Markets Near Your Sagamore Apartment
April 15, 2021
|
Uncategorized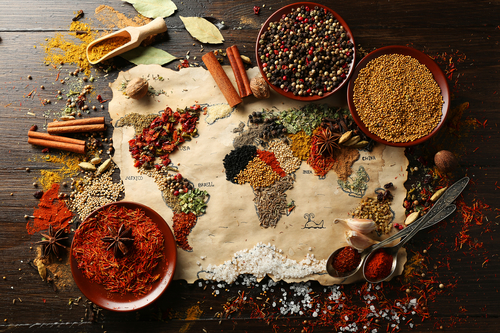 Many of us haven't stepped on an airplane or gone on our usual international getaways in a very long time. However, as any foodie knows, there's another way to help fulfill your wanderlust – by cooking up meals inspired by your favorite destinations.
The Upper West Side is an amazing multicultural area and the many international food markets in the area reflect that, offering cuisine from everywhere from China to Cuba. Check out these markets so you can find all the ingredients you need to create a meal from around the world right at home in your Sagamore apartment.
Dainobu, located at 36 W 56th St, New York which is 15 minutes from your Sagamore apartment, is a compact Japanese market selling imported goods as well as grab-and-go prepared meal boxes and sushi.
Dainobu carries about 3,000 items including fresh vegetables, meats, Japanese fish, Japanese medicine and household goods as well as a variety of Japanese sweets, snacks, Bento boxes and deli foods which are made fresh every day. Immerse yourself in Japan's food culture at Dainobu!
El Tepeyac Food Market, located at 1621A Lexington Ave, New York which is ten minutes from your Sagamore apartment, is a grocer specializing in Mexican and Latin American items, plus produce and a large selection of beer.
The food market is named after the borough of El Tepeyac in Mexico City. According to the Catholic tradition, it is the site where Saint Juan Diego met the Virgin of Guadalupe, the Aztec goddess of the earth, corn and fertility. At the food market, they combine traditional preparations with local ingredients for dishes that are authentic to both their Mexican origins and the New York setting.
36 W 56th St, New York, NY 10019
(212) 707-8525
1621A Lexington Ave, New York, NY 10029
(212) 987-8364