These Upper West Side Food Trucks Are Perfect For a Quick Yet Delicious Bite
August 19, 2021
|
Uncategorized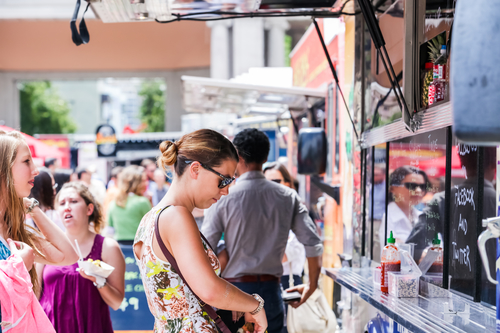 We get it – summertime is the busiest time! Between running around planning your next trip, shopping for new summer clothes and picking up a gift for that upcoming summer party, it can be hard to find time to grab a bite on the go.
But thanks to the food trucks located near our Sagamore apartments, you can enjoy a restaurant-quality dish without ever sitting down at a white-clothed table. Here are some to head to for sandwiches, international eats, healthy meals and more!
Uncle Gussy's, located at 345 Park Ave, New York which is 12 minutes from your Sagamore apartment, is a Greek food truck specializing in tzatziki sauce serves salad, platters, cheesesteak, pita and burgers.
In 1971, Gussy started his first food truck on 51st Street and Park Avenue, right in the heart of Manhattan. It quickly gained popularity, introducing New Yorkers to its oversized portions of authentic Greek delights. Katerina, with her sons Nicko and Franky, expanded the small family business by also offering Hellenic food. Today, thousands of people visit Uncle Gussy's food trucks and restaurants, online shop and order catering for their events.
Jiannetto's, located at 101 E 47th St, New York which is 16 minutes from your Sagamore apartment, is a food truck serving up pizza and other traditional Italian specialties. They also serve an award-winning grandma thin-crust Sicilian pie that is a must-try.
Jiannetto's started with one truck on Wall Street in 1998 and the brand has grown in size and popularity since. Today, three trucks share the streets delivering good food for reasonable prices in New York City.
345 Park Ave, New York, NY 10154
(929) 600-1111
101 E 47th St, New York, NY 10017
(917) 287-7241